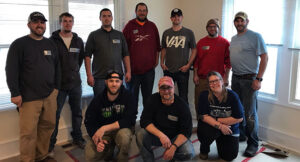 Ten employees recently volunteered with Habitat for Humanity (Habitat) to build a home in North Minneapolis. The group helped construct the house's front porch roof, sanded and painted interior walls and trim, stained spindles and installed blinds throughout the home. By the end of the day, the house was nearly move-in ready for a family.
The VAA team also helped on a neighboring Habitat house by unloading prefabricated wall sections.
Michael Jagerson, an Electrical Technician and one of the VAA outreach event organizers, says these builds are a valuable opportunity for service and team building.
"Participants benefit from having a direct impact in the build of the home and knowing the work they are doing will provide a wonderful home for a family in need," he says. "VAA has had a great experience volunteering with Habitat for Humanity the past few years, and we hope to continue to volunteer with them for years to come."
Habitat for Humanity works to bring affordable housing to communities and the families that live in them. Locally, Habitat helps low-income families in the Twin Cities community through programs like Habitat Homebuilding, A Brush with Kindness and Family Support Services. The organization operates worldwide, dedicated to empowering families by helping them "acquire the access, skills and financial education necessary for them to be successful homeowners." Learn more about the organization's work or volunteering on the Twin Cities Habitat for Humanity website.
Whether you need a new or expanded facility, a process designed or debottlenecked, life safety or structural analysis… VAA can help you grow.