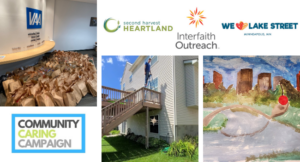 As with many 2020 events, VAA's Community Caring Campaign (CCC) joined the virtual world to raise dollars for local organizations. Selected by VAA's Designing a Difference Team (formerly Wellness & Outreach Committee), the CCC's on-line events and employee efforts raised over $40,000 dollars for three selected charities.
A long-term partner with VAA, IOCP helps families in eight Twin Cities western suburbs overcome barriers, believe in themselves and soar to new heights.
Partnering with VAA for the past decade, SHH is one the nation's largest hunger-relief organizations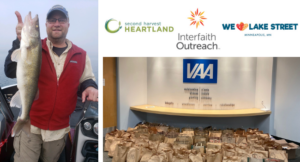 that finds creative solutions to connect the full resources of the community to help hungry neighbors.
Dozens of businesses, many owned by immigrants and people of color, were damaged on Minneapolis' Lake Street during riots following George Floyd's death. Funds will help rebuild the hardest-hit and most vulnerable businesses in the community.
"We wanted to continue the fun buzz the campaign sparks while being responsive to the current atmosphere," said Structural Engineer, James Snyder, PE, who led the campaign for the last two years. "The virtual CCC also created an outlet for employees searching for a way to give back and feel together while being physically apart."
A painting class and fishing tutorial hosted by CEO, Jeff Schrock, PE, were among the events employees experienced. Team competition took the form of a school supply scramble led by VAA's partners while an egg-drop challenge bolstered individual rivalry to create engineered contraptions. Regardless of the activity at the core of event was the desire to give back as the firm raised over $40,000 to support the Twin Cities community.
CCC By the Numbers
149 bags of school supplies for IOCP
$7,514 cash donations for We Love Lake Street Recovery Fund
$33,667 total raised for IOCP and SHH by VAA employees
Learn more about VAA's CCC in an article published in ACEC's Engineering Inc.
Whether you need a new or expanded facility, a process designed or debottlenecked, life safety or structural analysis… VAA can help you grow.