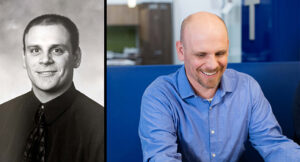 Terry Mahr is our first 2019 Club member. His memorable laugh and soft-spoken approach are valued by Terry's teammates, his commercial / retail clients and the new technicians and designers he welcomes to VAA.
With a genuine interest to propel the firm forward, Terry is a steadfast resource for the firm's recruiting efforts and a guide to others wanting to take their career to the next level. Thank you for being you and congrats on this milestone.
How did you first learn about VAA?
VAA (formerly Van Sickle, Allen and Associates) posted a position on the job board at Dunwoody College of Technology – a piece of paper on a cork board ad. One of my instructors at the time, Jim Roehl, brought the posting to me and said, "I think this is the one for you." He sent me off with a foundation plan and foundation details to meet Gene Haldorson (former VAA Partner and employee for 37 years who retired in 2018) of VAA. Twenty-five years later, here I am.
What is the best piece of advice you received throughout your career?
When I began to put drawings together more independently, Dave Johnson, PE, VAA Associate / Sr. Structural Engineer shared a simple, but very useful tidbit. "When developing drawings, put yourself in the contractor's shoes and think about what information he / she is going to need to build the building." This line has been used countless times over the years with the technicians I've had the privilege to train.
What do you feel is your biggest accomplishment / contribution since you started working here?
Being a member of the 25 & Up Club is my greatest accomplishment. To be with a company this long is a pretty great feeling. The stability to me and my family is very important. I appreciate Gene Haldorson taking a chance on me many years ago and am grateful for all the opportunities I've had since my very first day at VAA.
Pick three words you feel best describes VAA. Why do they apply to the company?
Dedication, service, growth. VAA is dedicated to its clients and employees. We strive to meet the needs of clients and approach each project as though it could be the last – a project is a project no matter how small. Through our service approach, VAA has established long-term relationships with contractors, owners and architects that began 40 years ago and continue to grow.
From your perspective, describe the biggest differences between when you started at VAA and the company now (other than company size).
I would have to say the biggest difference is the impact of technology in the industry. The pen plotter and fax machines are long gone!
What is your favorite sports team and why?
Born in Wisconsin, it's hard for me to choose, but it can depend on the season.
Whether you need a new or expanded facility, a process designed or debottlenecked, life safety or structural analysis… VAA can help you grow.