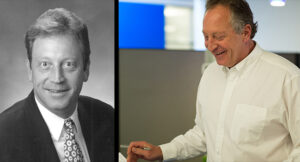 Bernie Jansen is our third recognized club member and resident agribusiness guru. Serving as a Partner at VAA for 18 years, Bernie is currently a Principal and still values hitting the road for face-to-face visits with long-time friends – our clients. We thank you for being you and congrats on this milestone.
How did you first hear about VAA?
A help wanted ad in the Star Tribune newspaper.
What is the best piece of advice you received throughout your career?
A good piece of advice was shared by Dick Van Sickle, "God gave you two ears and one mouth for a reason – make sure to listen well."
What do you feel is your biggest accomplishment / contribution since you started working here?
Building a network of clients with a repeatable workload and a talented team to serve them. I am proud to contribute to this model and share it with future VAA Partners to help grow the company.
Pick three words you feel best describes VAA. Why do they apply to the company?
Relationships – This defines most businesses and we have been blessed with many great client relationships over the years where we have helped each other succeed.
Growing – We are always looking to grow and add services and staff that we and our clients see as beneficial to achieving project goals.
Responsive – A key to building great relationships, we do what we said we would do and get it done when we said it would be done. We return calls and emails promptly and if something goes wrong, we are proactive in fixing it and don't pass blame.
From your perspective, describe the biggest differences between when you started at VAA and the company now.
We can certainly offer more to clients with the technology of CAD and Revit as opposed to hand drawing, which was common practice when I started. We also offer more today with the experiences and staff in civil, rail, architecture, mechanical, process and electrical. When I started, VAA was primarily civil and structural engineering.
If you could meet anyone, from any time period, who would it be?
My ancestor from Holland (Bernardus). He was a flour miller and it would be interesting to see how the Jansen name was made; how they lived and worked in those times; how they survived through the various occupations in Europe; and how they built and operated flour mills in Holland.
I do know Bernardus (19 years old) went to Hengevelde – a small community where he worked as a millhand at the Bolohermill owned by miller Ten Heggeler. Built in 1820, the mill one mile east of Hengevelde was special as it was made of bricks instead of wood.
Whether you need a new or expanded facility, a process designed or debottlenecked, life safety or structural analysis… VAA can help you grow.