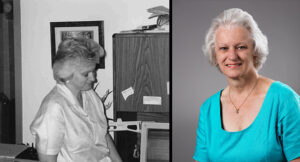 Our second featured "25 & Up" club member is Connie Cronquist. As a Front Desk Administrative Assistant for the past 26 years, Connie is the personality / friendly face of the company. We thank you for being you and congrats on this milestone.
How did you first learn about VAA?
I was job hunting in the fall of 1992 because the company I was at had been sold and was closing their Minneapolis office. After seeing an ad in the Osseo / Maple Grove paper, I called and made an interview appointment. Since my secretarial skills were a bit rusty, I did not know if I would be hired – they must have seen potential in me somewhere.
What is the best piece of advice you received throughout your career?
Be yourself and do your best in everything you do. It was a message my parents instilled in me when I was a young girl. It is also something I try to pass along to others.
What do you feel is your biggest accomplishment / contribution since you started working here?
I am the clerical point of contact and assist many of our engineers in the renewal process to ensure our licenses remain current nationwide and in Canada.
Also, I often hear I'm good at "knowing where things are" when new employees join VAA. I like to help where I can. Being a reliable resource when employees don't know exactly where to go for an answer I think is comforting to many of our employees.
Pick three words you feel best describes VAA. Why do they apply to the company?
Integrity. Quality. Consistency. They are all connected – integrity because we make good on our promise to provide quality work consistently.
From your perspective, describe the biggest differences between when you started at VAA and the company now.
The culture of the company has changed so much. When I started, men wore suits with ties and women (the two of us on staff) wore dresses or suits, high heels, etc. (i.e., business formal attire). Gradually over the years, the atmosphere has become much more relaxed. People still dress professionally, just not so formal. I think this change has created a friendlier, more approachable environment.
Also, within our culture the teams are larger, more interactive and do more together. The team-building off-site activities help people to relax and get to know one another on a personal level.
How many pairs of shoes do you own?
You may be sorry you asked – somewhere around 450, including boots.
Whether you need a new or expanded facility, a process designed or debottlenecked, life safety or structural analysis… VAA can help you grow.