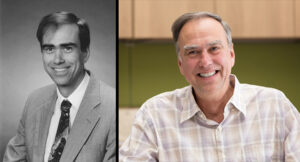 Gary is celebrating 34 years with VAA and is our fourth official member of the 25 & Up Club. Joining the firm only seven years after its inception, he has quietly shaped the growth of VAA with his unshakable dedication to his work and his clients. We thank you for being you and congrats on this milestone.
How did you first learn about VAA?
I worked for an engineer located in the Wesley Temple Building in Downtown Minneapolis. VAA (formerly Van Sickle, Allen and Associates) along with several other architectural, mechanical and electrical firms were in the same building. The engineer I was working for decided to pursue other business ventures and I applied for a position with VAA.
What is the best piece of advice you received throughout your career?
Chuck Allen told me to value every project – big or small. Small projects sometimes lead to bigger projects and are the building blocks of relationships.
What do you feel is your biggest accomplishment / contribution since you started working here?
I have been fortunate to work with some very good clients over the last 34 years – some for many consecutive years and who trust me with their projects. My biggest accomplishment is completing projects where everyone looks forward to working together again.
Pick three words you feel best describes VAA. Why do they apply to the company?
Growing, quality and relationships. VAA has grown consistently in the time I have been with the firm. Much of the growth is attributed to the quality of work we provide and relationships we value.
From your perspective, describe the biggest differences between when you started at VAA and the company now.
We have far more resources now – in material and human capacity – than we did when I started. VAA offers people from different disciplines with diverse experience that allow us to solve problems and take on challenges we could not before.
Where is the nicest place you've visited for work?
Bonaire, Netherland Antilles. It was for a project in 2014. I have returned for vacation twice since the project – incredible scuba diving and great people.
Whether you need a new or expanded facility, a process designed or debottlenecked, life safety or structural analysis… VAA can help you grow.