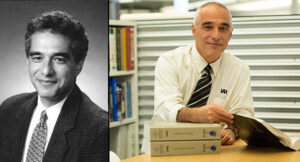 Shawn Shahriar, PhD, PE, Principal / Sr. Structural Engineer, is our final "25 & Up" 2019 Club member.  Shawn's influence on new employees, veteran engineers and VAA's ag and industrial projects comes from the same place – an intense drive to help and the heart to do what it takes to make it happen. A phenomenal fixture in VAA's structural engineering services, his technical skill with seismic design, forensic engineering and many areas in between are significant and appreciated. Thank you for being you and congrats on this milestone.
How did you first learn about VAA?
As a Project Engineer at Kiewit (formerly T.E. Ibberson Company) in 1992-1993, I was managing two major agribusiness projects where overflow drafting was subcontracted to VAA (formerly Van Sickle, Allen and Associates): Gene Haldorson (former VAA Partner and employee for 37 years who retired in 2018) and Bernie Jansen (former VAA Partner and current Sr. Project Manager). They impressed me and I felt we had good chemistry working together. Later in 1994 I contacted Gene about employment opportunities when I was looking for a change in my career. He introduced me to Dick Van Sickle, PE, and Reg Silverthorne, PE – the rest is history.
What is the best piece of advice you received throughout your career?
"I think, therefore I am."  — Rene Descartes
What do you feel is your biggest accomplishment / contribution since you started working here?
As a Partner from 1998-2018, I am proud to have helped build VAA's reputation as a highly specialized and reliable design-oriented engineering firm capable of supporting clients' engineering needs, particularly on one-off, complex agri-business and industrial projects.
Pick three words you feel best describes VAA. Why do they apply to the company?
Successful: When I started at VAA in 1994 it was a 17-person operation. To see the firm steadily grow in revenue and to 140+ employees is testament to the dedication of our Partners and competence of our work force.
Organized: It takes coordination and organization to execute the best service possible to our clients and internally to our staff.  Through the years, we've stepped up and delivered success through our strong engineering performance and project organization, not to mention in-house accomplishments such as office moves / expansions, maintaining continuous operations around the 2016 office flood, healthcare benefit challenges, etc.
Niche: A specialized firm with unique knowledge and competency that distinguishes it from its competitors.
From your perspective, describe the biggest differences between when you started at VAA and the company now (other than company size).
At its roots VAA was a structural engineering firm. Today, we are a multi-discipline practice offering a full suite of services.
Where is the most beautiful and/or enjoyable place you have visited?Zihuantanejo, Mexico. This city found fame as the destination at the end of the movie, Shawshank Redemption. It is inviting, peaceful, friendly and authentic Mexico.  I can count on two hands the times I have returned for vacation – truly breathtaking!
Whether you need a new or expanded facility, a process designed or debottlenecked, life safety or structural analysis… VAA can help you grow.