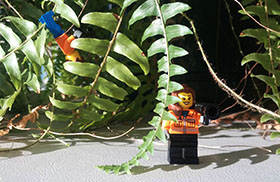 As the latest ACEC Explorer Post, over 20 students joined us at our Plymouth, MN office in an exploration of industrial engineering. VAA's activity created an assembly line that produced two Lego people (complete with tools). Participating as the machines throughout the line, students were asked to alter the process in ways that would improve the quantity and quality of the final product.
Led by industrial engineers who specialize in facility equipment layout, Brian Utoft and Hope Foley came up with this creative demonstration. "Industrial engineering has so many different facets; Hope and I both thought it would be a good idea to show a process similar to what we do here on a daily basis," Brian recalled. "Once the students got going, they started to talk to each other as a team, to think creatively, to find solutions for the bottlenecks in the process – I think they got a lot out of it."
The Minnesota Chapter of ACEC organizes an annual Explorer Post event hosted by local firms in the consulting engineering community. VAA was proud to participate in this year's program.
Whether you need a new or expanded facility, a process designed or debottlenecked, life safety or structural analysis… VAA can help you grow.