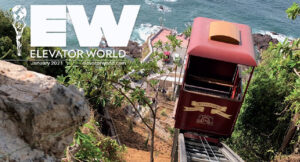 It has been said the best view comes after the hardest climb. But why not enjoy the views on the way up?
On the highest hill in Mazatlán, Mexico, sits an observatory that could previously only be accessed via a difficult climb up steep and rugged terrain. Hill Hiker designed an inclined elevator system that offers visitors a secure (and fun!) 260-foot ride to the top. Keeping safety at the forefront, the design successfully addressed the challenges of a 30-degree incline, uneven landscape, and constant ocean salt spray.
The track and car along with general layout services for the mechanical equipment at the top of the elevator system used VAA's engineering.
Rising to the occasion on 40+ projects predominantly on the United State's West Coast since 2016, team leads Kelsey Brown, Aaron Fortunato, and Duston Foth continue to support Hill Hiker's team and are thrilled to be part of Elevator World's Project of the Year for 2021.
Whether you need a new or expanded facility, a process designed or debottlenecked, life safety or structural analysis… VAA can help you grow.