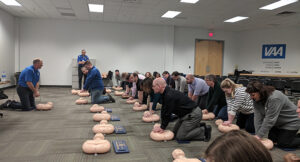 For 27 VAA employees, lunch was spent learning life-saving CPR / AED techniques. Saving a life can happen any place, any time at any age.
Sudden Cardiac Arrest (SCA) kills more than 350,000 Americans every year and the national survival rate is less than 10 percent. Did you know SCA is not the same as a heart attack? This unexpected medical emergency kills more than 7,000 seemingly young, healthy kids every year.
As part of their 'Heart Safe Plymouth' initiative, the Plymouth Rotary Club provided compression-only CPR and AED training. By participating in the training, VAA contributed to the City of Plymouth continuing its 'Heart Safe' community designation adding to the number of area residents and organizations educated in CPR / AED use. Since the program began seven years ago, the Rotary Club has taught 5,700 people and held 200 training sessions. Lub-dub!
Whether you need a new or expanded facility, a process designed or debottlenecked, life safety or structural analysis… VAA can help you grow.