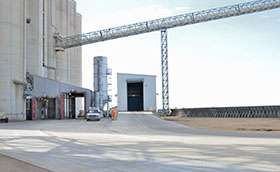 In collaboration with Cargill, Inc. and multiple contractors, the team won Minnesota Concrete Council's Cast-In-Place Concrete Award in the pavement category. VAA engineers used concrete paving for the site's access road, which was the majority of the project's civil design. The road consists of 22,400 square yards, or approximately four acres, of concrete. Starting from the main highway and stretching around the facility structures, the road is nearly a mile long at a width of about 45 feet. The team exhaustively researched pavement options to ensure the proper method was selected for the facility. Conventional concrete pavement was selected as a durable, low maintenance and cost effective option in the face of continuous stress on the site. VAA's civil engineering design improved the operational efficiency of the grain elevator facility in Pipestone, MN.
All entries were judged based on creativity, functionality, innovative concrete construction / design and positive representation and/or advancement of the Minnesota cast-in-place concrete industry. Landon Pohl, Lead Civil Engineer on the project, accepted the award for the team on Thursday, February 25. Reflecting on the experience, Landon said, "It's always a rewarding opportunity to work on a Cargill project. Our work on this facility has been ultimately beneficial to Cargill, local concrete suppliers and the surrounding community."
Whether you need a new or expanded facility, a process designed or debottlenecked, life safety or structural analysis… VAA can help you grow.