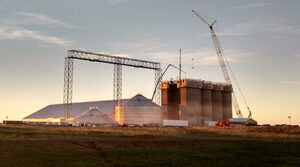 The project team responsible for the design and construction of Wheat Growers' high-speed shuttle loading and fertilizer terminal located in Kennebec, South Dakota was recognized for their "Excellence in Concrete." In close collaboration with GCC Ready Mix, VAA engineers provided structural designs for the entire facility. The design team incorporated concrete into the foundations and select walls of the flat storage and fertilizer structures. Responsible for each component of the facility's construction, SMA, LLC provided the slipform construction of the largest concrete structure on the site. The grain elevator alone is compiled of 4,450 cubic yards of concrete, or the equivalent of 350 cement trucks.
The South Dakota Chapter of the American Pavement Association offers this annual award as a way to highlight substantial concrete projects that promote their surrounding community.
Whether you need a new or expanded facility, a process designed or debottlenecked, life safety or structural analysis… VAA can help you grow.