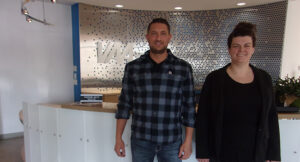 Supporting industry education and giving back to our community are highly valued at VAA. The Haldorson and Jansen Scholarship program reinforces both goals and recognizes our enduring community ties to Dunwoody College of Technology (Dunwoody). Founded in 2014, the program includes two scholarships named for current VAA Principal and Dunwoody alum Bernie Jansen and former Partner / Dunwoody alum Gene Haldorson, who retired in 2018 after nearly 38 years at VAA.
The program has awarded a total of $20,000 to Dunwoody students since its launch. In addition to the monetary award, the scholarship recipients visit VAA for an office tour before being treated to a celebratory lunch.
Recent scholarship recipients David Thompson and Hazel Wolf applied for the program in 2019 and their awards will go towards their spring 2020 semesters. The candidates were interviewed and evaluated for commitment, academic achievement, benefit from scholarship, community involvement and previous employment. David Thompson was awarded the Haldorson Scholarship and is enrolled in the Architectural Drafting and Design Program. Hazel Wolf received the Jansen Scholarship and is enrolled in the Surveying and Civil Engineering Technology Program.
Congratulations to both 2019/2020 scholarship recipients.
Whether you need a new or expanded facility, a process designed or debottlenecked, life safety or structural analysis… VAA can help you grow.