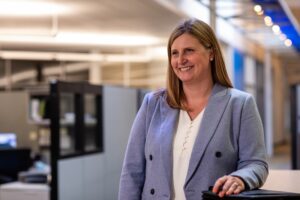 Tina joins VAA as Chief Financial Officer (CFO) and Director of Operations, a newly created corporate finance and operations position for the privately held multidiscipline engineering and design firm.
The combination of introducing a 10-year, 2030 Vision and modifying the company's governance were catalysts to adding the newly formed CFO/Director of Operations position.
"With Tina on board, this allows other members of ownership to focus on what they do best – concentrate on client relationships and strengthening our service teams to bring their best to project execution," said Jeff Schrock, PE, CEO. "I am a firm believer of having the right people in the right seats, and Tina's ability to analyze and forecast our efforts will be a tremendous help as we move towards the 2030 Vision."
Tina will oversee the financial activities of the company that is nearing 200 employees. She will also manage the firm's human resources, information technology and administrative departments.
"My role is to help build a strong financial and operational foundation that engages our people and builds upon the areas the company is doing well already," said Tina. "I'm excited to tap into my analytical background to see where processes can improve efficiency or remove barriers to improve the working environment for our employees and clients. The commitment to a long-term vision with an emphasis on corporate culture are standout qualities of VAA that fit me personally and professionally."
Tina, whose previous role was Chief Financial and Administrative Officer of a pharmacy benefit consulting and auditing firm, brings 25 years of financial and operational leadership in various professional service industries to her newly formed role. She is a graduate from the University of Minnesota – Twin Cities with a B.A. in international relations, and holds an MBA, majoring in accounting from Minneapolis' University of St. Thomas.
Whether you need a new or expanded facility, a process designed or debottlenecked, life safety or structural analysis… VAA can help you grow.