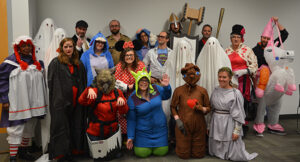 Ghosts, ghouls and even a Greek goddess roamed the halls at VAA's Plymouth office on Halloween. In addition to a costume contest, our Wellness and Outreach Committee hosted a Chili Cookoff and Dessert Bakeoff for employees to show off their culinary creations.
With nearly 20 costume-clad participants in the running, it was a tight race for the 2019 costume contest. Employees also engaged in a friendly competition for the Golden Spoon and Golden Whisk awards. For a $5 donation to Fur-Ever Home Rescue, employees received an all-you-can-eat pass for chili and desserts and a vote in selecting the top three winners in both categories.
Whether you need a new or expanded facility, a process designed or debottlenecked, life safety or structural analysis… VAA can help you grow.