Over the past 45 years, VAA has grown strategically and cultivated long-term relationships with clients and partners. As we considered our vision for the future, we recognized an opportunity to revitalize the VAA brand.
When the company was founded in 1978, we had a handful of employees providing civil and structural engineering services. Today, we have an incredible diversity of talent doing exceptional work in 10 disciplines with clients and partners across the entire supply chain. Our brand needed to reflect the energy and innovation that we bring to these valued relationships.
Elements of the brand refresh include:
Modern new logo,  emphasizing stability, vitality and upward growth
"Let's get growing™"  brand promise,  accentuating our commitment to being a partner in clients' long-term success
Completely new website at vaaeng.com,  showcasing VAA's integrated expertise, specialized industry insight and broad portfolio
Building relationships and partnerships is at the core of what we do. We're intentional in mentoring our people to create future leaders who continue to provide the high level of expertise you've come to expect. We believe the new VAA brand better reflects the dynamic excellence of today's VAA. We look forward to planning for your long-term success.
Let's get growing™.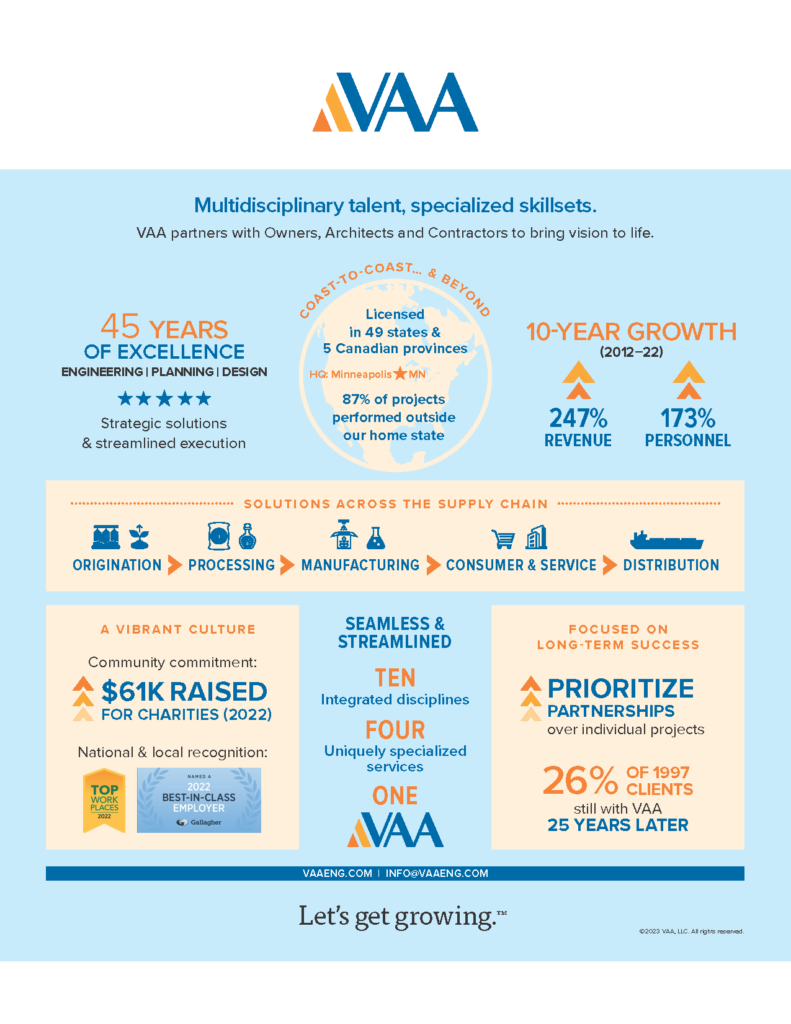 Whether you need a new or expanded facility, a process designed or debottlenecked, life safety or structural analysis… VAA can help you grow.