VAA Promotes Kevin Full to Partner; Paula Phillippe Becomes VAA's First Outside Board Member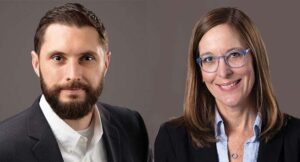 Kevin Full, PE, LEED AP, recently joined the Partner group at VAA. The multidiscipline engineering firm of over 200 employees is now privately held by 13 Partners.
A Senior Structural Engineer with expertise in large marine infrastructure projects, Full manages work within VAA's agribusiness and industrial sectors across North America, including the design of marine terminals. His extensive experience in specialty structural designs – from seismic design to vibration analysis for many construction types – makes Full a unique technical resource to the company and a sought-after expert to his clients.
"We're so proud of Kevin and his work over the years," said CEO Jeff Schrock, PE. "His technical abilities, dedication to his clients, and specific knowledge in marine facilities have helped propel VAA torwards our 2030 Vision. I'm happy to welcome Kevin into the Partnership group!"
Paula Phillippe is the first external, independent Director to join VAA's Board of Directors. Phillippe has been an executive leader in professional service organizations for more than 20 years. She has served on a variety of business and nonprofit boards and led several growth initiatives over the course of her career. A respected enterprise thought leader, Phillippe is routinely looked at by business executives and board members for her insightful perspectives and sound governance counsel.
"As an outside board member, my role is to bring fresh and objective perspectives to VAA's strategic planning efforts. I'm excited to help VAA identify and implement strategies that will help the company continue to grow."
Phillippe's expertise includes strategy development, leadership development, risk oversight, human resources, and communications. She is also well-versed in social responsibility, diversity, and culture.
CEO Jeff Schrock, PE, stated, "VAA is excited to welcome Paula as our first outside board member. Her impact has already been felt, and I look forward to her contributions in support of our 2030 Vision. We're glad you're here, Paula!"
Whether you need a new or expanded facility, a process designed or debottlenecked, life safety or structural analysis… VAA can help you grow.