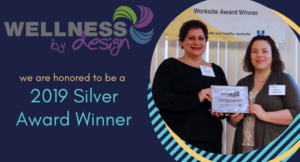 VAA received a 2019 Wellness by Design award for excellence in worksite wellness at a ceremony hosted by Hennepin County Public Health in November. As a silver-level award recipient, VAA was recognized for making "employee health a priority through creative and effective wellness initiatives."
Wellness by Design awards are presented to Hennepin County employers that demonstrate accomplishments in management support, wellness infrastructure, communication, and programming directed at improving employee health. VAA joins over 70 organizations that were recognized with awards for workplace wellness this year.
"VAA is honored to be recognized by Hennepin County for our commitment to creating a healthy workplace for our employees," says VAA HR Generalist Cheri Axel, PHR, SHRM-CP. "Receiving the award affirms VAA's dedication to fostering an environment that promotes diverse wellness programs that meet a wide range of personal health needs while developing a workplace culture focused on celebrating and improving the quality of life for all employees."
Each organization's wellness program is assessed in 10 categories ranging from senior-level support to policies and employee engagement. This is the fifth time VAA has accepted a Wellness by Design award, demonstrating the continued growth of its social, mental, physical and financial well-being programs.
Wellness offerings at VAA include a structured mentoring program, charitable PTO, education reimbursement, profit-sharing, teambuilding outings, an onsite fitness room, quarterly healthy snacks, book club, and annual ping pong and basketball tournaments. The firm is also committed to community wellbeing; employees regularly participate in a variety of community-based events from Habitat for Humanity projects to hosting an annual Community Caring Campaign that raised over $50,000 for local nonprofits in 2019.
New additions to the wellness program this year include freshbenies, a heath concierge service offering a holistic suite of options to provide employees and their families with cost-effective healthcare services.
Worksite wellness programs are of value to both the employee and employer. They can improve employee performance, increase engagement, lower healthcare costs, and build community. Effective programs create a culture of health that affects all employees. To learn more, visit the Wellness by Design website.
Whether you need a new or expanded facility, a process designed or debottlenecked, life safety or structural analysis… VAA can help you grow.