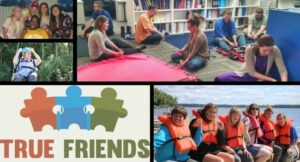 VAA's business is built on creating lasting relationships with clients, coworkers, and local community organizations. Cultivating partnerships that last decades and doing work that supports our partners' overall purpose is at the core of what we do. One uniquely rewarding partnership is the one we share with True Friends, a local nonprofit providing life-changing experiences that enhance independence and self-esteem for children and adults with disabilities through a variety of programs and services. VAA staff—and three generations of CEOs—have been inspired by the immense positive impact of these programs to volunteer their time and design expertise in support of True Friends' mission.
True Friends is the result of legacy providers Courage Center Camps (est. 1955) and Friendship Ventures (est. 1964) coming together in 2012 as a new organization. The agency operates five locations in Minnesota, providing outdoor experiences, respite care, therapy riding and other services to nearly 25,000 individuals each year. True Friends serves people living with any of hundreds of diagnoses including autism, cerebral palsy, and hemophilia as well as those with chronic medical conditions such as dementia and Alzheimer's disease.
HOW THE RELATIONSHIP BEGAN
VAA's involvement dates to the mid-1990s when VAA (then Van Sickle Allen & Associates, Inc.) founder Dick Van Sickle enlisted the Marines to erect a new building at the site that would become True Friends Camp Eden Wood in Eden Prairie. Dick was a commanding officer of a Marine Corps unit specializing in occupational training in construction and engineering. Rather than have recruits practice their skills building temporary structures, Dick sought out the opportunity to provide hands-on training for the unit by erecting a new building at Camp Eden Wood. More than 200 Marines came together with donated supplies to create a building for the camp that is still in use today.
Over the years, VAA's engagement with True Friends has taken many forms, from volunteering, landscaping efforts and the creation of tie blankets for campers to Eagle Scout mentoring and in-kind donations. Perhaps the most valuable way that VAA gives back is through its engineering and architecture services. The firm has provided consultation and reduced-fee work for several camp improvement projects, including facility designs at True Friends Camp Friendship and True Friends Camp Eden Wood
In 2006, current CEO Jeff Schrock, PE was introduced to the organization. He assisted in designing handicap accessible trails, dining hall and dormitory upgrades and other improvements for True Friends Camp Friendship. Jeff joined True Friends' Facility Advisory Board in 2014 and the Board of Directors in January 2019.
"The volunteering spirit displayed by Dick Van Sickle motivated me in my initial engagement with True Friends," says Jeff. "The mission of True Friends inspired me to continue to this day. I have thoroughly enjoyed watching the joy our work brings to so many people."
ENHANCING THROUGH ENGINEERING AND ARCHITECTURE
True Friends President and CEO John LeBlanc says VAA's support of the organization through design work is an asset, especially when it comes to managing relationships with multiple jurisdictions and building codes.
"It's a unique way of giving back and it's a companywide dedication," John says. "VAA has walked with us so we're not alone; they've been in it for the long haul, transcending leadership at both organizations to help us serve people with disabilities."
The firm's efforts with True Friends continue with several projects currently in progress. The conversion of an existing dormitory into an educational facility at True Friends Camp Courage will add needed program space. VAA is reviewing the underutilized building for structural capacity and spatial renovations. Two recently completed cabins at True Friends Camp Friendship add modern sleeping and program functions at a scale that fits the wooded environment of the site. Nestled among the existing cabins, the new cabins can each house five guests and one staff membe
Sr. Architect Travis Beck, AIA, NCARB worked closely with True Friends on these recent projects and enjoys the opportunity to provide lasting value for the nonprofit.
"There is no better use of your talents than to help those who have the capacity to help so many," Travis says.
CONTINUED SUPPORT DURING COVID-19
As an organization that serves a medically vulnerable population in large group settings, True Friends has been deeply impacted by the COVID-19 pandemic. Summer programs have been canceled but the agency continues to serve a handful of high-care respite clients and about 15 independent riders in its horse therapy program. Through their retreat program, True Friends recently launched a new feature, cabins equipped with kitchens are rented out to families with individuals with disabilities to serve them as single households to minimize contact.
The cancelation of summer programs is not just a lost chance to make summer memories; True Friends' programs provide an essential service in the continuum of care, respite for caregivers and life skills development opportunities for campers.
"They're developing skills that improve their lives; it's a step towards independence to build friendships, confidence and courage," says John.
As True Friends and VAA have grown together over the decades, both organizations have continued to find creative ways to partner on efforts to improve the experience and environment for campers and their families.
"Using our talents as engineers and architects to help others is inspiring to me and our employees," Jeff says. "Truly designing and making a difference that will be felt by so many in the decades to come."
Visit truefriends.org to learn more about True Friends.
Whether you need a new or expanded facility, a process designed or debottlenecked, life safety or structural analysis… VAA can help you grow.