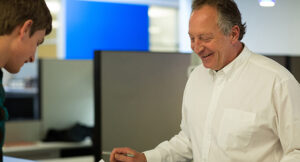 Former Partner and Senior Project Manager Bernie Jansen is celebrating 35 years at VAA. Respected and admired by clients and coworkers alike, to say Bernie has played an integral role in the growth of VAA is an understatement.
Bernie always possessed a natural curiosity about how things were built. Having discovered drafting in high school, he graduated from Dunwoody College of Technology with a degree in Building Construction – Drafting and Estimating. He then spent six years at a construction company planning and constructing industrial facilities and gaining firsthand experience in slipform construction. Bernie's knowledge of slipform silos and high-rise building cores augmented VAA's familiarity with this construction method, helping to create a niche used today for many of the firm's facility designs.
When Bernie joined VAA in the spring of 1985, the company was made up of two small firms: Van Sickle Allen and Associates, and Grain Facility Design. Bernie started out providing structural drafting for commercial building projects under the direction of cofounder Chuck Allen, migrating back and forth between the two companies as needed.
It wasn't long before he was taking on new responsibilities. At a time when drawings were still being done with pencils and the web wasn't yet worldwide, Bernie spearheaded VAA's adoption of computer-aided design. "Our first CAD machine was very expensive and quite large," Bernie remembers. He also managed the firm's IT functions at this time.
As fax machines and pencils were abandoned for email and 3D design, Bernie's role continued to expand. He managed all aspects of VAA's projects, from designing process flows and refining concepts to producing contract documents and coordinating construction. His integral role in company operations led to becoming a partner in the firm.
Bernie also played a key role in growing VAA's agribusiness sector, working alongside Gene Haldorson, cofounder Dick Van Sickle, and others. Having backgrounds in construction, Bernie and Gene in particular both had a deep understanding of the needs specific to construction companies and were able to leverage this knowledge to forge many new relationships. "If we did good work for a client, we were not shy about asking them to help us find more opportunities," Bernie revealed about expanding VAA's client base.
While his understanding of engineering, material handling, and construction is wide and deep, it's Bernie's talent for cultivating and maintaining lasting client relationships that is a hallmark of his reputation. CEO Jeff Schrock is proud to call Bernie a mentor, partner, and friend. "His genuine desire to build relationships and help people is evident in his actions. The care he brings to his client relationships has paved an incredibly successful career and bolstered VAA's business."
Although Bernie greatly enjoys seeing projects progress from an idea to a built environment, what he relishes most about his work are the challenges that have pushed him to break unfamiliar ground, create a fresh process, or utilize new technology. "Bernie has a remarkable ability to adapt to change and innovate," says Brian Utoft, PE, Partner and Senior Process Engineer, who has worked closely with and been mentored by Bernie. "He's not only been instrumental in introducing VAA to new clients over the years but also expanding the types of projects VAA pursues."
Bernie appreciates time spent with family, outdoor activities, and working with his hands. His hands-on approach extends to VAA's staff, many of whom he has managed and mentored during his tenure to help advance their own skills and talents. His desire to help both his colleagues and the firm succeed combined with his ability to foster thriving client relationships has helped VAA evolve into the company it is today.
Congratulations to Bernie on 35 meaningful years at VAA! Highly regarded as one of the most knowledgeable and experienced members of the firm, Bernie helped VAA's founders make the mold, break it, and reengineer a better one.
Whether you need a new or expanded facility, a process designed or debottlenecked, life safety or structural analysis… VAA can help you grow.